The martial arts industry is growing in popularity. This is especially true in the US, where many areas are experiencing growth. But when did the industry start making waves in the fitness world, and what does the future hold?
It's critical to stay on top of trends and statistics in any fitness industry. New figures emerge and help us predict the future of the industry, and adapt strategies accordingly. We've previously discussed the martial arts trends you need to know, and in this article, we'll explore the martial arts business statistics worth knowing – and what they mean for the industry. First, we'll dive into the history of martial arts to pinpoint where and when the interest began gaining momentum.
An Overview of Martial Arts
Practicing martial arts can benefit a person both mentally and physically. A study revealed that those who practice martial arts gain faster reaction times and better balance over time, and historically, a report from the American Journal of Psychotherapy suggested that martial arts can act as a form of mental therapy.
The practice of martial arts dates back thousands of years. However, more recently, the industry has come a long way and developed hugely. These changes have promoted global awareness of martial arts and in turn, increased popularity. 
The Rise of Mixed Martial Arts
Founded in the US in 1993, The Ultimate Fighting Championship was the beginning of a whole new kind of competitive martial arts. The UFC is the largest Mixed Martial Arts promotion company in the world. It has played a massive role in bringing attention to martial arts as a whole. 
As its name implies, MMA is a combination of martial arts including Karate, Kempo, Judo, Jiu-Jitsu, Taekwondo, and Muay Thai, among others. MMA will also often include techniques derived from kickboxing, boxing, and wrestling – depending on the specific discipline. 
Mixed martial arts began its move into the fitness world around ten years ago, by making its way into health clubs and gyms. At the time, Kara Thompson, PR Coordinator for the IHRSA, put this down to the consumer desire to find new ways to workout, adding that "the UFC phenomenon has aided the interest in mixed martial arts." Its popularity since then has soared, with a 2018 report from Statista showing that the number of participants in the US aged six years and above in mixed martial arts competitions amounted to approximately 977 thousand.
Economic Change and Its Effect on the Industry
The UFC and MMA brought new recognition to martial arts. But unfortunately, like many industries, it could not escape the economic backlash of the mid-2000's recession. Figures show a decline in student participation after the recession hit in 2007, but once the economy began to recover, so did martial arts. 
Simmons Market Research reveals statistics in martial arts that correspond with the economic climate as it began climbing out of recession in 2010. According to the research, 18.1 million Americans practiced a form of martial arts at least once between 2010-2011, comprising 9.4 million adults, 5.5 million teenagers, and 3.2 million children. At this time, it was also noted that 52% of members were men, with 48% women. This gender breakdown has changed since, with an even higher percentage of males participating. We'll explore these statistics a little later in the article.
A 2018 report from Statista shows a correlation between income and participation in martial arts. 7.83% of respondents who stated their income was high said they participated in the activity. This is also the case in a report from Simmons Market Research. The report revealed that 28% of children who take part in martial arts training are from households earning a minimum of $50,000. In comparison, just 10% of those from families earning less than this figure take part in martial arts. 
Martial Arts and the Economy Today
In today's climate, Frank Silverman, Executive Director of the Martial Arts Industry Association, sees no reason for turbulent economies to impact the martial arts thriving future. He notes, "I see every reason to believe schools that are professionally and safely managed, and that teach safe, quality martial arts with top-notch instructors will thrive for years to come. The truth is, I can't imagine a scenario in which a professionally run, safe, the quality-oriented school will not thrive in 2019 and for years and years to come, even in up-and-down economies."
Consumer Trends and the Martial Arts Industry 
Recent figures show that around 3.6 million people are now practicing martial arts. Research from IBIS World highlights a 4.2% growth from 2012-2017, with predictions for continued growth over the next several years. While these figures predict a steady increase, the many disciplines of martial arts are continuously expanding, attracting more people, and just like the boutique fitness industry; they are changing with the times to meet consumer needs. 
The Experience-Driven Consumer 
Similarly to the boutique fitness boom, increased consumer interest in recreational activities has massively influenced the growth of the martial arts industry. As Kevin Logan, U.S chief economist for HSBC, notes; there has been a steady drop in consumers purchasing clothing and shoes, and instead, they are spending on eating out, travel, and recreation. 
The Top 10 Barriers
Slowing Your Fitness
Business Growth
Discover more
Proving a shift in what's become relevant to consumers, this trend combined with the growing popularity of martial arts and the use of social media has meant more exposure for the practice. A quick Instagram search for the hashtag #martialarts reveals over 7.8 million posts. It's safe to say that platforms like Instagram have helped the industry, as the content shared promotes a lifestyle – and invites people to become a part of an experience and a community. Social media marketing has paved the way for schools to promote awareness of the martial arts, as well as their school, lessons, and what they have to offer.
Martial Arts Trends
Broader consumer interests and habits are often mirrored throughout many different industries. However, Silverman (executive director, MAIA) warns that acting impulsively on martial arts trends is not to be rushed. He notes that martial arts business owners must understand that when a trend develops, it's important not to abandon their existing core martial arts product. Instead, Silverman recommends to "view a trend as an opportunity and decided if we want to take advantage of it." 
Say, for example, that you're a martial arts studio offering personal training sessions focusing specifically on karate. There's no need to jump on any 'shiny new' martial arts trend as soon as you hear about it. One of the best things you can do when faced with this temptation is to consult your students. Do they want to see this type of discipline at your school? Would they be interested in trying it, or are they happy with the quality of karate you already offer? At the end of the day, keeping your students happy keeps your business running!
Technology
The rising popularity of wearable technology is another consumer trend that is impacting the industry. Fitness tech has developed at an astonishingly fast rate over the last few years. It is now entering the MMA space. The global wearable sensor market is estimated to reach $1.9 million by 2024.
A report from Technavio highlights innovation in this area as a key trend in global growth, especially when it comes to the mixed martial arts equipment market, which is expected to reach $565 million by 2022.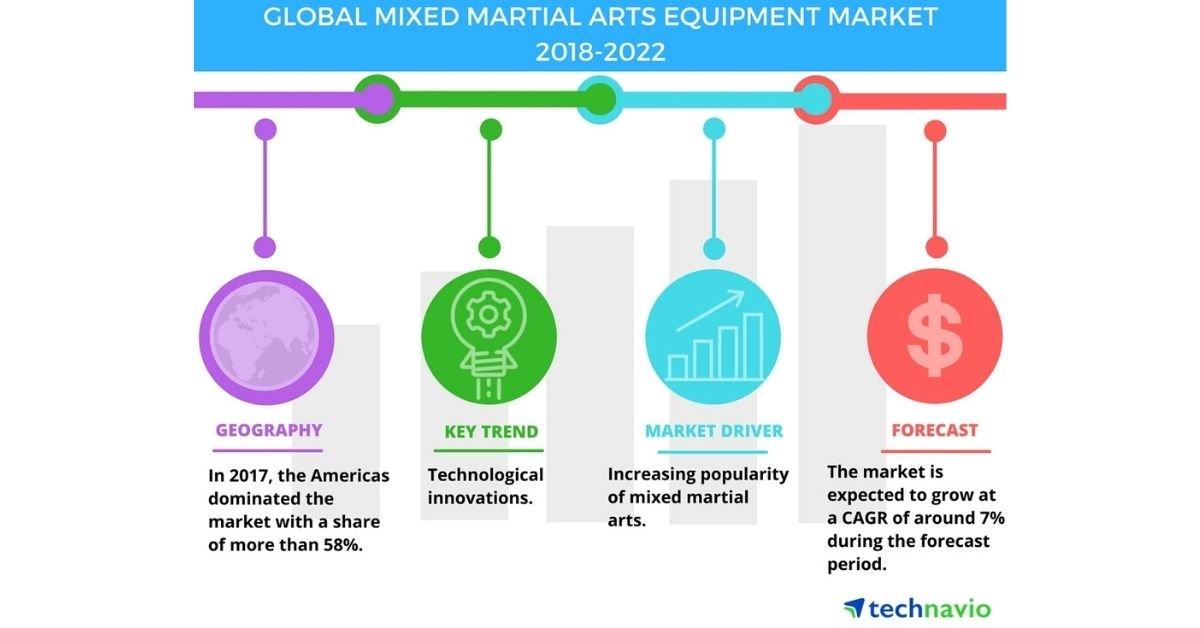 Source: www.businesswire.com
The UFC Force Tracker is an example of what the industry tech is capable of and where it's already going. The tracker merges the divide between martial arts and technology. The smart device connects to the punching bags from the XFORCE App and links to your phone via Bluetooth. Its sensor provides metrics such as strength and speed and operates for both kicking and punching in real-time.
What's Next For the Martial Arts Industry?
Statistics allow us to break the current consumer interest in martial into four main categories. Research from IBIS World reveals that 35% of those participating in the industry take MMA classes. This is followed by karate at 22.2%, taekwondo at 12.8%, and judo at 10.2%.  
According to the IBIS World report, the demand for martial arts will rise as economic conditions continue to improve. The report records 2019's total revenue at $5billion, with 80,559 martial arts businesses in operation. 
The industry serves a diverse audience, but at the moment, instruction is focused primarily on males and the youth market.  Males now account for 64.7% of the industry's members. Those under the age of 17 generate the largest sum of martial arts revenue, accounting for 55.7%. 
There's rising popularity in mixed martial arts and increased interest in recreational activities. These factors have leade to increased spending in the martial arts industry. 
Martial arts come from a complex historical and social background. But every year, the market continues to change and develop. With the increasing popularity, it'sits a great time to be in the martial arts business.
The Top 10 Barriers
Slowing Your Fitness
Business Growth
In this e-book, we will list the most common barriers that
slow fitness business growth and list some of the tips to
help overcome them.
Discover more