Taylor Training Systems Keeps Bookings Up and Attendance High With Glofox Push Notifications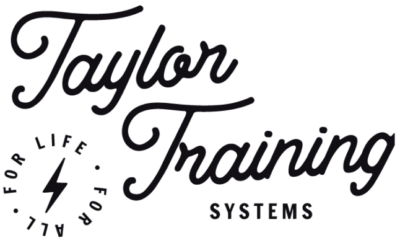 Location

St. Augustine, Florida

Services offered

Group fitness classes, personal and athlete training, nutrition coaching

Most-valued Glofox features

Member app and push notifications
About Taylor Training Systems
Based in St. Augustine, Florida, Jeremy Taylor launched Taylor Training Systems to provide members with the guidance and direction to help them create a sustainable healthy lifestyle. The business is on a mission to provide members with an educational, entertaining, functional, and innovative experience.
Despite a challenging year for the fitness industry, Taylor Training Systems has been hugely successful since launching in 2020. Its growing base of engaged members continues to pave the way for exciting opportunities in the near future.
"The main thing that drew me to Glofox was the branded app and its capabilities. I knew the push notifications would be a huge part of making sure that we're always top of mind with members."
The Challenge?
Finding a streamlined software solution with features to help a new business grow and succeed
As an entrepreneur with a passion for fitness, Jeremy worked in the fitness industry for many years before launching Taylor Training Systems. During his time working as a manager for a boutique gym, he experienced first-hand the limitations created by the poor gym management software that the facility was using:
"The interface, and just everything about it, just seemed really old. It was like they hadn't put much thought into updating their system, especially in terms of usability."
Performing even the simple task of scheduling was so difficult that the gym had to source a different platform for employees to use:
"It was hard to schedule; we had to use a different scheduling platform for our employees."
The software created unnecessary admin for Jeremy and his team and didn't provide the functionality needed to run the business efficiently.
How Has Glofox Helped? Simple and powerful features that help to engage members, empower staff, and promote brand awareness
When launching his own business, Jeremy knew he would need a reliable software solution to help deliver a seamless and engaging member experience:
"The main thing that drew me to Glofox was the stand-alone app and its capabilities. I knew the push notifications would be a huge part of making sure that we're always top of mind with members."
Our push notification feature has been essential in helping the business keep members engaged and booking into class. Jeremy can easily connect with members using the app, allowing him to motivate and empower them at just the right time.
"I'm constantly sending out push notifications reminding people of events, sending motivational things, whatever it is; just so they're constantly reminded of us. If they're teetering on the fence of whether or not to come in, that little push notification gets them off the fence and into the gym. It's all about encouraging a routine, getting people in, and keeping them consistent."
The branded app has become a valued feature for the business, making Taylor Training Systems stand out from the crowd and promote brand awareness:
"Having a branded app means we can single ourselves out from the rest. It's nice to be able to throw out on social media 'download our app!' because it looks professional and more official."
As well as standing out from the competition with branding, the app also contributes to a seamless member experience:
"Most of our members have been with other boutique gyms, but not ones that have a branded app; they'll have a bunch of different platforms that they have to download. So this being all in one is really nice. It makes it easy for members and gives them control."
Compared to his experience with the software at his previous gym, Glofox provides Jeremy and his team with features that streamline operations:
"Glofox is just super easy, especially for the staff. You can tag in which coach is teaching which class, and it's simple for them to just pull up on the app exactly what their schedule is for the week."
Glofox provides both members and staff with a slick sales and onboarding process, and Jeremy can easily access the key business insights he needs. And the impact of this streamlined system is clear. Taylor Training System's revenue has grown month on month with an increase of over 300% between December 2020 and February 2021:
"The systems are straightforward to use; the onboarding is simple, and it's super easy to follow revenue reports and reporting lists to see how the business is doing. I like the easy touches we can get with people; it's very nice as far as the sales side goes."
What's Next for Taylor Training Systems?
The business has seen huge success with its marketing efforts and has some exciting plans lined up over the next few months. Jeremy's approach to developing incentivizing offers helps Taylor Training Systems stand out from local competitors:
"We don't have huge overheads here, which means we're able to offer great incentives and discounts. We're able to offer corporate discounts and wellness partnerships. We can charge less for a better product, compared to the other gyms in our area."
The business gets a lot of new clients through referrals; if a member refers somebody in and then they sign up for a monthly membership, they both benefit from discounts. The gym also runs special offers every month, testing new incentives to see what drives results:
"In February, we did 'Free Friend Friday' and added probably 8-10 new members from that alone. This month we're running an affiliate membership program. So we give members a unique code they can share with their followers on social media. Then if someone new comes in on that referral code, they'll get 20% off their first months with us."
The business will continue focusing on experimenting with new strategies to incentivize potential members and drive brand awareness:
"April through May is going to be our first internal challenge, so there'll be incentivized earnings behind it for the team and charity giveaways, things like that. We're trying to do something every single month that's different to keep it fresh for people."
Get a quote
Take advantage of our flexible pricing structure. We'll show you the product and answer all your questions in 30 minutes.
"We align our success with the success of our customers which is why our offering transcends our software. "
Businesses and growing

Countries and growing